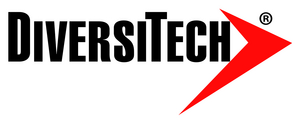 DESCRIPTION
Connect hose, pierce line and back seat needle.
Features a valve core in the 1/4in. male port.
Flow shuts off automatically when hose is removed.
Flow starts when depressor type charging hose is connected.
If valve core is not desired, it may be removed.
Simply pierce the line and back seat the needle.
This method offers full unrestricted flow.
Valve core can be removed or changed at any time without loss of refrigerant if needle is front seated.
Diversitech QCK Tap For 1/4 5/16 3/8 in.
DIVQT1
Inlet Outlet:
3/8 in inlet/1/4 in outlet
SPECIFICATIONS
Inlet Outlet

3/8 in inlet/1/4 in outlet
Valve Size

1/4 in, 3/8 in, 5/16 in
Need Help?

1-800-721-2590

Contact us between 8AM and 8PM EST, Monday - Friday