Tricks of the Trade
How to choose the best smart thermostat for your customer
by Molly McCrory
For HVAC professionals, specializing in smart home or connected home installation is an excellent way to grow steady business throughout the year. This is because there is significant overlap between smart home products and the heating and cooling industry. Smart thermostats are a prime example of this overlap. Compared to when they were first introduced to the consumer market, smart thermostats today have evolved to offer a number of unique features that are specific to various smart thermostat brands. Depending on what your customer is looking for, these features make some models better suited for specific applications over others. Discover three premier smart thermostat models in order to help you find the best smart thermostat to fit your customers' needs.
Sign up for a free Online & In-Store account to buy these thermostats and other smart thermostats online, or find your local Ferguson for expert support from a knowledgeable associate.
The Ecobee4
As the first brand to introduce Wi-Fi enabled thermostats to the market, Ecobee designed the Ecobee4 to be quickly and efficiently installed by HVAC professionals.
Ecobee4 features:
Includes zoning sensors that allow users to manage hot and cold spots within their home.
Can save an average of 23 percent annual savings on heating and cooling costs according to their calculations.
Compatible with 95% of heating and cooling systems.
Comes with built-in Amazon Alexa Voice Service, so customers will save money by bundling their smart home product purchases.
Pro advantage: The Ecobee4 offers a five year warranty when purchased and installed by a professional compared to a standard three year warranty. Promote this advantage to make it additionally appealing for your customers to opt for pro installation.
The Honeywell Lyric Round
Lyric Round features:
Syncs with most major voice assistants, including Google Assistant, Samsung SmartThings, Amazon Alex and the Apple HomeKit.
Sends alerts to homeowners to inform them of extreme weather conditions in order to provide optimal energy efficiency and extend the life of their HVAC system.
Compatible with a variety of indoor air quality (IAQ) accessories, like dehumidifiers, humidifiers and UV air filters.
Pro advantage: Smart notifications tell homeowners when maintenance needs to be performed by a professional, so they'll be encouraged to contact you for expert support.
The Google Nest Learning Thermostat
The Google Nest Learning Thermostat offers responsive design and energy savings, which it promotes through their slogan: "Programs itself. Then it pays for itself."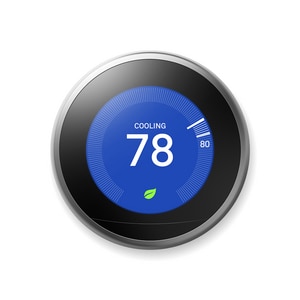 Google Nest Learning Thermostat features:
Auto-Schedule feature learns homeowners' preferred temperature settings and adjusts itself accordingly for maximum energy efficiency.
Shown to save between 10 to 12 percent on heating costs and 15 percent on cooling costs by independent studies.
Compatible with 95% of heating and cooling systems.
Works with Amazon Alexa and Google Assistant.
Pro advantage: The large, clear display and simple left-to-right adjustments make this smart thermostat easy for people of all ages and abilities to use. If you have customers who are intimidated by new technology, these features will allow you to ease them into the idea of a smart thermostat.
Consider Ferguson your source for the latest smart home products and service to help you implement the best smart thermostats for all of your customers. Visit your
local Ferguson
for expert smart home support, and browse our offering of other smart home products online.